bookstores near the White House
President Obama goes to Amazon this week to sing its praises.

When he lived in Hyde Park he and his family spent hours in Seminary Coop Bookstore and 57th Street Books, and I know he's a book person.

So I wish he'd visit Politics & Prose or Busboys and Poets near the White House instead to shine the spotlight on true innovative heroes of local retail, rather than hyping this hideous mediocrity which eats small businesses for breakfast.
One of my favorite overheard conversations during my trip across western Canada last week happened at Page's on Kensington in Calgary.

The recent hellacious floods were fresh on everyone's minds, and when Mayor Naheed Nenshi walked into the bookstore with his entourage while I was browsing, it was no surprise that the subject quickly came up.
A woman told him that part of her library had been wiped out.

Nenshi grimaced and said with a shudder that he didn't know what he'd do if he lost his book collection.

"I wouldn't know how to start, but I guess it might be interesting to decide which books are really important to you."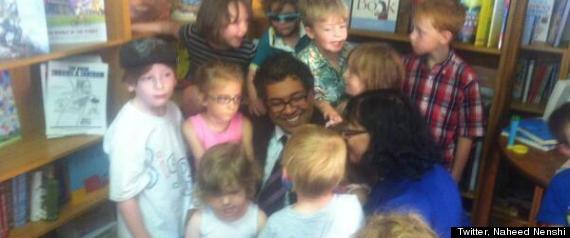 An ordinary conversation about a shared event, but I was struck with the clear impression that this man is a true book-lover.

Although his visit to the shop was part of some roving photo-op down Kensington, he was clearly at home in the bookshop, and the look of horror on his face as he pondered the loss of a personal library seemed completely genuine, a glimpse behind the political mask.
The encounter reminded me of my days managing a downtown Milwaukee bookstore and another reader politician.

City Hall was a few blocks away, and our gangly, wonky mayor would amble in at lunch hour a couple times a week.

He was not a glad-hander, and people tended to give him space to browse like a normal person.

He and his wife had wide and interesting reading tastes, and, without trying to score "support your local business" points, quietly supported us by buying lots of books.
How many mayors today frequent their local bookshops?

How many cities still have downtown bookshops worth frequenting near City Hall?
* * * * * * * * *
In advance of moving to a smaller space for the first time in 30 years, I've been on a personal library reduction project.

Happily, it's not prompted by a natural disaster, but I agree with Mayor Nenshi that it's very difficult to do triage on books that are and have been- let's face it- my best friends.
Everyone has advice, but the most popular seems to be "trade one for one"- henceforth, every book I bring into the house has to be balanced by one going out.

But out where?

I have nothing against selling to used book dealers or donating to worthy causes, but it bothers me to think that some book with really special qualities will wind up in a jumble sale instead of finding the perfect reader match.
My neighbor Maria says she just gives away every book after she reads it, an elegant solution but not for me.

Others suggest cutting out topics in which I've lost interest.

But just picking up some of these books makes me interested all over again.

True, I could slim down by keeping just one edition by some of my pet authors.

Do I really need four copies of Ivy Compton-Burnett's A Father & His Fate?

Apparently, yes.
Just as I'd finally gotten my head around the need to be ruthless in culling my shelves, I read The Pope's Bookbinder,

a completely charming memoir by David Mason, the dean of Toronto antiquarian book dealers.

His sly humor and passion about the idea of collecting made me see my library as the personal achievement that it is, and to ease up on the discards.
I began to think that maybe all I really need do is to put a hold on acquiring new books until the move.
But even that resolve was demolished when I walked into the superb Edmonton Bookstore last week, one of the finest second hand book dealers I've ever seen.
After an hour I walked out with:
-
an autographed copy of Tim Buck's memoirs (and the fact that the name will mean nothing to you is simply evidence of the sorry state of the Left);
-
a harcover copy of Swamp Angel by another of my unknown writer obsessions, Ethel Wilson;
-
and- I kid you not- a copy of Ivy Compton-Burnett's A Father & His Fate with a small note inside reading "Ethel Wilson's copy."

Sure enough, Wilson signed her name and the book is filled with her underlinings and marginal notes.

Perhaps she reviewed it, so now I'm on a quest for that.
To appreciate the improbability of this coincidence, pick your two favorite obscure, out of print authors, who have no apparent connection with each other, and then imagine coming across one's copy of the other's book in a far-flung Canadian bookstore!
Clearly, downsizing the book collection is not going to work.

Maybe the condo will accommodate more shelves after all.